September 1, 2002 By Pulp & Paper Canada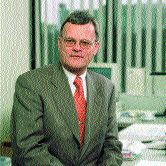 Gunnar Trnvik, VP Technology SCA Group:"The hygiene sector accounts for some 50% of SCA turnover and has become the most important one."One production unit, Edet, is located in Sweden with a producti…
Gunnar Trnvik, VP Technology SCA Group:
"The hygiene sector accounts for some 50% of SCA turnover and has become the most important one.
"One production unit, Edet, is located in Sweden with a production of 100,000 tons of tissue on three machines, roughly 5% of SCA total of two million tons. We are making extensive investments here with a new sludge combustion plant which will make it possible for us to make our own steam by burning sludge from production and from a deposit built up during many years of operation. Furthermore we will upgrade our two deinking lines at Edet and improve our competitiveness in papers based on recycled fibers. In total, Edet will become a very nice and high quality production unit of tissue. We will rank No. 1 in Europe on tissue after our latest acquisition in Italy.
"On the packaging side, we have two paper mills up north: Munksund, with over 300,000 tons, and Obbola, with 400,000 tons, both big and very competitive. The status on all our units, not only in Sweden, is very competitive compared to the average North American mills when we talk about size and being modern," concludes Mr. Trnvik.
---
Print this page