Jan. 29, 2018 - Some projects can demonstrate sustainability in one or two ways, but Columbia Pulp's new Lyons Ferry pulp mill takes sustainability to an entirely new level. From slashing greenhouse gases to sourcing local feedstock to using efficient production processes, this plant does it all.

January 29, 2018 By Treena Hein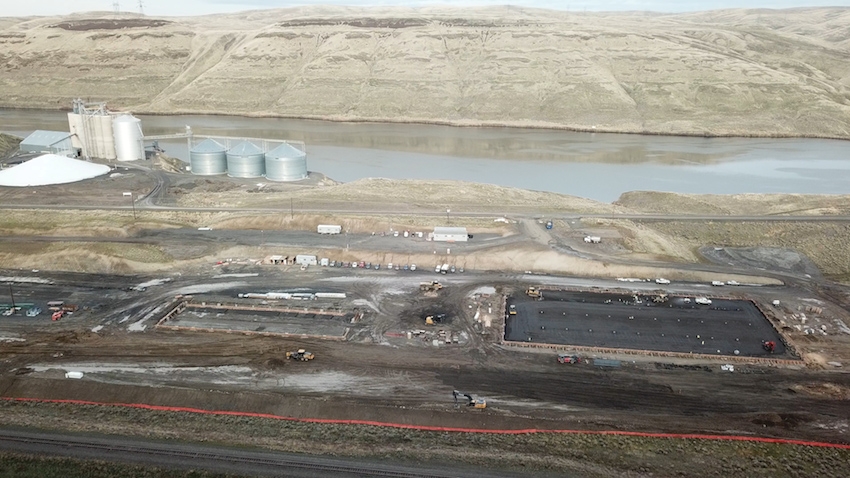 With its new facility, Columbia Pulp joins the roster of firms delving into wheat straw pulp production
Located in Columbia County, Wash., the mill will produce 140,000 tonnes a year of commodity and specialty straw pulp for direct sale to paper and packaging manufacturers as an alternative to wood-based pulp material — which Columbia Pulp says will have "quality specifications equal to or better than virgin hardwood pulp or recycled pulp."
Like trees, straw is renewable, but the added benefit of using straw is that farmers in the region are currently burning it in huge amounts, which adds significant amounts of greenhouse gases to the atmosphere.
Another sustainability aspect of the operation is the local sourcing of the straw, all coming from within a 75-mile radius. Transport of this raw material to the plant, as well as shipment of finished products, is possible in two efficient ways. "[The plant is] right on major rail access," notes president John Begley, "and right on a major highway." It is also located where there is a natural gas pipeline. Construction started in August 2017 and is expected to finish in October 2018.
A third significant sustainability factor is the production process itself, which Columbia Pulp says is proven to use fewer chemicals and less energy than conventional pulping.
"Most notably, the process is conducted at atmospheric conditions and is 'gentler' on the raw material," the firm explains on its website, "resulting in a significant competitive advantage in terms of cost, product quality and environmental impact."
Begley considers the ability to process at atmospheric conditions — with no high-pressure boilers needed — as one of the most unique aspects of the facility. He says the mixing process uses only a tiny amount — roughly 10 per cent — of the water used in traditional sulfur-based cooking processes.
According to Begley, the Columbia Pulp plant is "designated a minor source of air emissions," and there is "virtually no water discharge." Along with wheat straw pulp, it will also produce various valuable byproducts such as sugars and lignin.
It's the existence of new technologies like the ones about to be employed at Lyons Ferry that have enabled Columbia Pulp and others to use straw at all.
Traditional pulp production technologies just aren't well suited to processing it. Indeed, the Washington Post recently reported that construction of a $2-billion straw pulp plant in the state of Virginia by Chinese-based Tranlin is delayed because "a new technology that the company has been testing in China is working so well that the firm wants to rethink how it approaches manufacturing elsewhere."
In addition to Columbia Pulp and Tranlin, Canadian environmental nonprofit Canopy reports on its website that Kimberly-Clark has increased its use of straw, and that "about 30 per cent of India's paper and about 20 per cent of the paper manufactured in China is made from agricultural residue and/or non-wood fibres." Canopy put Canadian wheat production at over 22 million acres, resulting in 13 to 20 million tonnes of wheat straw.
Canadian farmers also grow between one and two million acres of flax. Like wheat straw, some flax straw is burned, but the Flax Grower's Guide produced by the Flax Council of Canada and partners states that there are now several processors located in Manitoba, Saskatchewan and Alberta who purchase it. Several others accept hemp stalk fibre. Flax straw is being currently used for everything from animal bedding, linage for drainage ditches and building construction to covering golf course greens and production of biofuel, composite plastics, textiles and cigarette papers. Hemp fibre is being used in Canada to make paper, textiles and more.
This article was originally published in the Winter 2018 issue of Pulp & Paper Canada.
---
Print this page