Products Test & Measurement
Voith's SensorBlade uses contact pressure to measure roll performance
January 10, 2019 By P&PC Staff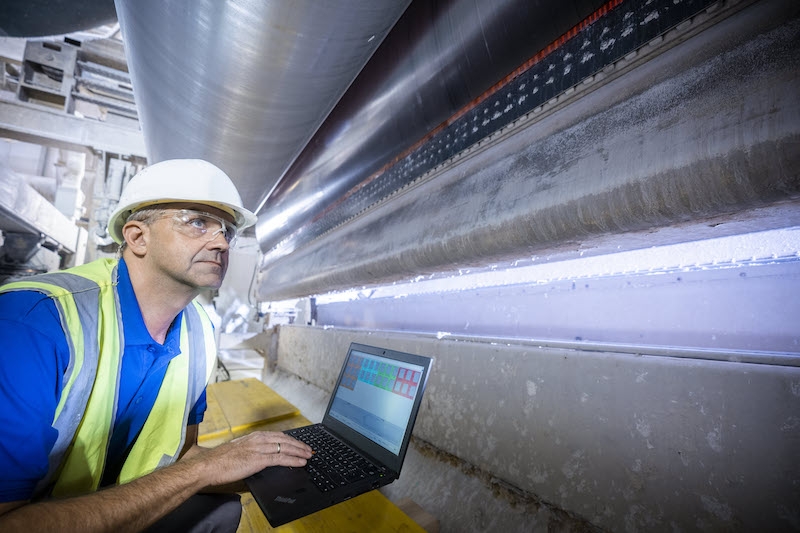 January 10, 2019 – Voith is offering a new service for optimizing doctor blade settings, called SensorBlade, which uses uniform contact pressure over the entire width of the roll to avoid damage to roll covers and web breaks.
Doctor blades are used in various sections of the paper machine. In particular, the doctor blade plays a crucial role in the area of the center press roll, where in the event of a web break the paper is severed by the doctor blade underneath and removed. In the process, the doctor blade cleans paper residues off the roll cover, so that production can continue smoothly. To achieve this, a uniform contact pressure of the doctor blades over the entire width of the roll cover is critical.
If a paper manufacturer discovers problems, the triggers can be identified by the SensorBlade measurement and rectified based on the measuring results.
The Voith SkyLine doctor blade used for the measurement consists of several segments that can be connected with one another and that are then fitted with sensors. As a result of this configuration, the measuring device is suitable for all machine widths. The readings from the individual sensors are condensed to provide an overview of the contact pressure over the entire roll width. The data is analyzed by Voith experts and summarized in the form of a report.
The SensorBlade measurement can only be performed during a shutdown.
---
Print this page